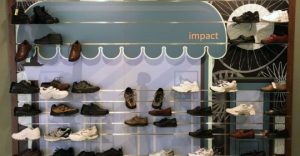 Better alignment and foot support can help you live a life with less knee and back pain
Feet are the key to the alignment of your entire body. That is why having good footwear is how to prevent experiencing pain from the bottom of your feet, all the way up your spine. Examples of the pain caused by bad footwear can be anything from plantar fasciitis to knee and back pain.
What kinds of shoes to avoid wearing?
Flip-flops: While this kind of shoe may work for the beach or the pool, walking distance in flip-flops has the potential to cause you trouble. Most shoes of this kind have no arch support and as a result could cause plantar fasciitis. This lack of support can also cause trouble with your knees, hips, and back. Another danger of flip-flops is that they leave your entire foot exposed and this could result in a splinter or other kind of foot injury. While a foot injury can be simply painful to most people, in someone with diabetes small cuts and scrapes can result in serious medical complications.
Ballet flats: At first glance this shoe may appear less hazardous than tall high-heels. But the bottoms of these shoes are so thin that wearing this shoe is akin to walking around on a piece of cardboard. The absolute lack of support with this kind of shoe could leave you experiencing plantar fasciitis knee, hip, and back pain.
High-heels: When you wear high-heels it shifts your body weight to the balls of your feet. Having your feet in this position puts a lot of unnatural pressure on your foot and causes a balance problem by re-aligning the position of your knees and hips. Other problems that high-heels are known to cause are neuromas, ankle sprains, midfoot fractures, pinched nerves, bunions, ligament damage, ankle sprains and ankle breaks.
Shoes with pointy toes: Give your toes some much-needed room. Pointy toe shoes can be very bad for your feet. This kind of shoe can show up in men's or women's fashion. The best solution for this problem is to buy shoes with a wide toe box.
This kind of shoe is known to cause pain, bunions, and hammertoes.
How to find good shoes?
It can feel like there are many more bad shoe choices than good shoe choices. Here is how you can find some shoes that you know are good.
Qualities of a good shoes include:
• No give in the outer heel counter
• The heel should feel stable to you while walking or running
• The sole should bend easily at the widest part of the forefoot and not further back on the shoe
• Firmness in the sole to the ball of the foot
• Feeling the arch of the shoe with your foot
• You should have the ability to push off of the big toe while walking or running.
• No outside heel give
• Heel height should be symmetrical
It is very important to find shoes that fit correctly and properly fitted shoes can help a lot with the comfort of your feet. You should go shoe shopping at the end of the day because your feet swell as you walk or run throughout the day and the evening is when your feet are at their largest. Even as an adult your feet can change in size and that is why you should measure your feet every time you go to a shoe store. Also bring the socks and orthotics you wear to pick out your shoes. The shoe should be secure on your foot but not too tight. Between the big toe and the end of your shoe should be 3/8 in to 1/2 in space.
It is very important to remember that while walking you should be able to feel the stability of the heel throughout the gait cycle as well as the arch support contacting your foot as you step through and push off your big toe.
Shoes are made for unique purposes and that is why you should own a separate pair of shoes for walking and running. Walking shoes are very stiff. Running shoes come in three different varieties motion control, stability, and neutral. Motion control running shoes work best for people with very flat feet, as they have high stability needs. Stability running shoes work best for people with a low to medium arch. Neutral running shoes work for people with a high arch.
In many cases the quality of your shoe and the complete alignment of your body can be improved with custom foot orthotics. Custom foot orthotics are even known to help alleviate pain such as low back pain. At IMPACT we can make you high quality custom foot orthotics and sell you a pair of top quality medical grade shoes for all of your different footwear needs, click here to find out more.
Different shoe models come out every year. Here the list of the best kinds of shoes for 2016 found in a shoe store.
Walking shoes
• Asics Foundation Walker
• Brooks Addiction Walker
• New Balance 928
• Skechers Premium Sport or Work
Training shoes
• New Balance MX857 (cross-trainer)
• Adidas Mundial Team (indoor soccer)
Running shoes
Motion Control
• Asics Foundation 8
• Brooks Addiction
• New Balance 1340
• New Balance 928
• New Balance 1540 V2
Stability
• Asics Fortitude
• Brooks Transcend 2
• Nike Structure
Neutral
• Brooks Dyad
• Brooks Glycerin 12
• Saucony Triumph